I started riding horses as a child, on grandparents' farms in the interior of São Paulo and Minas Gerais, and since then the passion for horses has only grown.
For a few years, I was a breeder of Mangalarga horses, and I always loved horseback riding. As passionate about horses and horseback riding, I made numerous trips on horseback in all regions of Brazil, and on all continents (Abu Dhabi, South Africa, Australia, Argentina, Botswana, Cambodia, Canada, Chile, Ecuador, Spain, United States , France, Hungary, India, Indonesia, Italy, Jordan, Mongolia, Namibia, New Zealand, Peru, Poland, Portugal, Turkey, Uruguay and Zimbabwe).
Having unique and unforgettable experiences in my travels, in 2003 I decided to combine my passion and knowledge to create the Cavalgadas Brasil, the first agency in the country specialized in horse riding. I organized exclusive tours in different regions of Brazil and in some countries in South America.
I rode 750 kms on the Camino de Santiago de Compostela and 1780 kms on the Estrada Real and with that I became a member of the Long Rider's Guild, an English entity that brings together long distance riders and has 5 representatives in Brazil. I am the founder of the Equus Brasil Institute, which has projects aimed at bringing information to the equestrian market.
Every year I travel on horseback, in different regions of Brazil and in several countries. In this year of 2020 before the stoppage, I rode in 3 countries (Portugal, Indonesia and Cambodia) and 2 states (Bahia and Rio Grande do Sul) besides of course, riding here in São Luiz do Purunã.
Below, I share a little bit about places and experiences that I have already experienced traveling the world on horseback:
Travel around Brazil
Many years passed before I had the opportunity to get to know Brazil on horseback. In 2006 I decided to dedicate a year to get to know the best destinations in the country to ride and I rode in all regions of Brazil, in almost all Brazilian states.
In Pará I rode on farms on the Ilha do Marajó and in the Santarém region. I also went on horseback to the famous Alter do Chão beach. Just as I rode in Chapada Diamantina/BA, Chapada dos Veadeiros/GO and Chapada dos Guimarães/MT. I covered the entire coast, from north to south, and found wonderful destinations, from Jericoacoara in the Northeast, to the Lagoa do Peixe National Park in Rio Grande do Sul.
I explored the Pantanal in several regions. I had the opportunity to participate for a few days in a delegation trip, an extraordinary experience where I learned more about the rich Pantanal culture. I met some Pantanal schools in the Aquidauana region and visited the school at Almir Sater's farm, an example of an initiative that deserves to be better known and publicized.
Every year I ride in Aparados da Serra and Bahia, spectacular destinations where I guide foreign clients. I can't get enough of repeating these destinations, because every time I come back, I live a unique experience, because there is no ride like another.
In 2016 I had the opportunity to make my biggest trip on horseback, I covered the four Caminhos da Estrada Real (MG/SP/RJ), 1780 kilometers in 45 days. Unforgettable experience that I shared with my friend José Henrique Castejon.
I rode in most regions of Minas Gerais, my father's home state and holder of the largest horse herd in Brazil. São Paulo, Rio de Janeiro, Santa Catarina, are states where I also did several horseback rides in different regions.
Around the World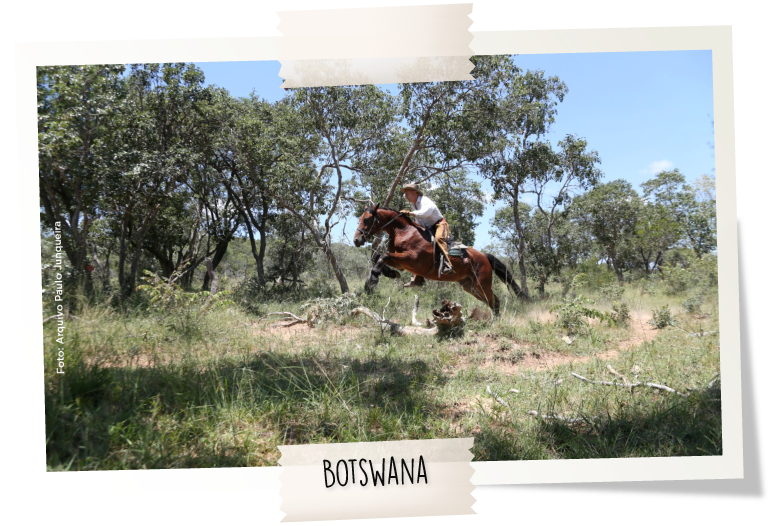 At the same time that I knew Brazil on horseback, I sought to know the best destinations in the world in horseback riding. Still with the chance to learn the equestrian culture of these countries. I did many safaris on horseback in different places in Africa (15 different safaris in various regions of South Africa, Botswana, Namibia and Zimbabwe).

About Africa I say: we all dream about it, the one of the famous National Geographic documentaries, films and books. Africa is a destination that few know well, but that is in the imagination of many.
For those looking for a lot of adrenaline and a great adventure, horseback safaris in the Okavango Delta are considered by riders from around the world to be the best in Africa! I participated in three different horse safaris in the Delta region and I agree, it is the Top of Africa!
In North Africa, in 2018 I went to visit Morocco, a very interesting country with its Berber horses and crossed with Arabs. I rode in several regions and followed the final stage of the National Championship of Tbourida – equestrian tradition that presents a stylized war game. It is the national equestrian sport, a tradition carried out by Arab and Berber communities across Morocco.
In South America, I rode in Chile, Ecuador, Peru, Uruguay and in almost all regions of Argentina. I consider Argentine Patagonia one of the main destinations in the world for horseback riding. Its inhospitable nature is to be felt, lived; no photo can express what it really has to show.
More around the world
I participated in horseback riding in Canada and in several American states. With the United States, I have a special relationship (cover photo), because that's where I did my first international ride when I was 18 years old. Country with the second number of horses in the world and with the greatest tradition in horseback riding.
In the land of horse charmers, I rode in spectacular settings, especially Wyoming, the destination of my first international ride to which I returned in 2015. It is a place where you can feel yourself within the spectacular settings of wild west films.
India, Mongolia and Turkey are the destinations where I rode in Asia. To Mongolia was knowing that the principal would not be the ride itself, but the opportunity to know the culture of the Mongolian people and the Przewalski horse or Takhi as it is called in the country.
Above all, during my travels I have tried to get to know the different wild horses that exist in the world; most of them, like the American Mustang or the Australian Brumbie, are actually horses descended from domesticated animals that have escaped and adapted to wildlife.
The Przewalski's horse has never been domesticated and remains the only truly wild horse in the world today. It is one of three known subspecies of Equus ferus.
About 40% of Mongolia's population are nomadic herders, family life depends on the health of their herds and is punctuated for taking care of animals. "It was horses that shaped our homeland, so we respect the horse a lot in our culture".
The India with its ancient culture and the Marwari horse impressed me so much, that I decided with my friend Paula da Silva
to edit an art book with her spectacular photos.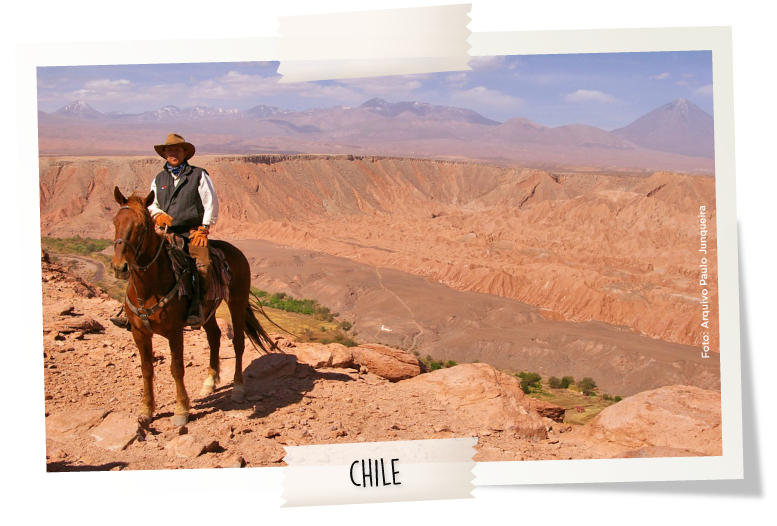 Horseback riding across five continents
In the Middle East I rode in Jordan and the United Arab Emirates. Above all, despite having ridden Arabian horses before, traveling through the desert dunes or reaching Petra on an Arabian horse is an unforgettable experience.
In Europe, I rode in Hungary, Poland, Czech Republic. In such a way that I traveled several regions of Spain, France, Italy and Portugal. Highlighting the Camino Santiago Compostela (French), in fact, covering 750 kilometers in 19 days, in 2012.
In Oceania, I rode in Australia and New Zealand. However, despite being close countries, they are completely different experiences. New Zealand is an incredible place for activities in the wild, including, of course, horseback riding.
In Australia, besides riding, I went to Kosciuszko National Park to meet the Brumbies. They are the wild horses of Australia. While it is the largest population of wild horses in the world. In addition, most of them are concentrated in this Park.
I feel totally integrated with the world around me, listening to all its different sounds and feeling an energy that I can't get when I'm not riding. Traveling on horseback offers me the opportunity to live new experiences, in an extreme integration, man, horse and nature.
São Luiz do Purunã as my home 

In 1998 I met São Luiz do Purunã, when there was only the Cainã Farm Hotel, which at that time had rooms only where today is the main house. Since then I frequented the region until, in 2013, when I bought a farm and started to live in the district. My main motivation was the horses and a beautiful region where I could ride. Even knowing so many different countries and places, the sum of the horse culture combined with the natural beauty that we have here made me choose São Luiz do Purunã to be my home.

---